MY FICTION, OUR REALITY
[ A Danganronpa V3 Postgame Zine ]
Q: What is a zine?
A: A zine (short for "fanzine") is a magazine made by fans for fans. Such zines normally include a variety of works, usually art and writing.Q: What is the theme?
A: This zine will shed some light on the DRV3 cast after the killing game. This is not limited to the canon-compliant ending. Therefore, VR AUs, survivor-based pieces/art, and more are all going to be potentially featured in the zine.Q: Will this be a digital or physical zine?
A: In accordance with the interest check, we will be offering both digital and physical options.Q: Will this zine include any ships?
A: Not exactly. Friendships? Yes. We would like to focus on general relationships. Romantic relationships? No.Q: Is this a for-profit zine?
A: Yes! This zine will be for-profit, and we hope to compensate each of the contributors with both a free zine & merch bundle plus an equal dividend of additional earnings made through the zine.Q: Will this zine be sfw?
A: Yes.Q: What characters will be featured in this zine?
A: The entirety of the DRV3 cast!Q: Do you ship to the UK?
A: Yes! We will have a separate Etsy store for UK orders.Q: What is your refund/replacement/lost goods policy?
A: There will be no packages replaced or refunded after the order is sent. However, you can buy shipping insurance in each physical bundle which will allow us to replace any lost package.If you do not see your question here, please ask us directly through our Curious Cat!
| STATUS | ESTIMATED DATE |
| --- | --- |
| Mod Applications Open | April 5 |
| Mod Applications Close | May 5 |
| Interest Check Open | May 22 |
| Interest Check Close | June 22 |
| Contributor Applications Open | July 10 |
| Contributor Applications Close | August 10 |
| Contributor Emails Sent | August 25 |
| Concept Check-In | September 4 |
| Check-In One | September 22 |
| Check-In Two | October 16 |
| Check-In Three | December 11 |
| Final Submissions | January 15 |
| Preorders Open | February 17 |
| Preorders Close | March 31 |
| Production Period | April to December 2022 |
| Orders Shipped | December 2022 |
| Leftover Sales | TBA |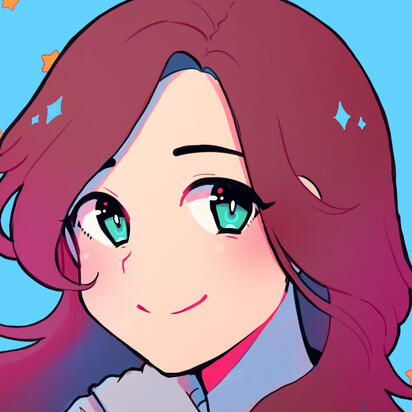 Maybell
Head / Organization / Socials Mod
Heyo~! I'm Maybell, a 20 year old university student based in Texas. I'm the Head Mod of this zine. I'm currently helping mod a zine at the moment (that is still ongoing and in its early phases), but this zine is the first one I'm hosting! Besides that, I have run numerous fan events in the DR community.I first started my hyperfixation with Danganronpa about 8 years ago. Yes, 8. I have brainrot. DRV3 is by far my favorite game of the franchise, so I wanted to pay love to the game by exploring its lovely cast of characters outside the confines of a killing game as they learn, grow, and connect with eachother! I can't wait to see how this project will develop and grow! Let's do this!!!! ^^AO3 - Twitter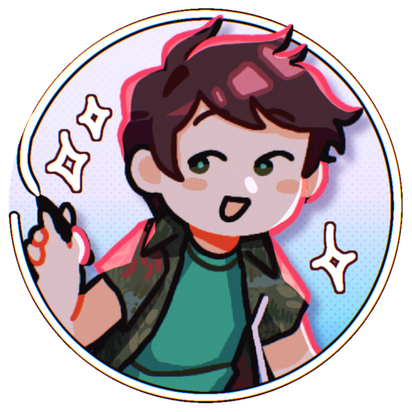 Rain
Graphics Mod / Art Assistant
Hiya, I'm Mod Rain! I'm currently 16 years old. I'll be in charge of the graphics for My Fiction, Our Reality! Additionally, I will also be helping out Mod Karu as Art Assistant.I have contributed to a handful of zines before as an artist. As for modding them - I'm still learning the ropes. Danganronpa V3 is my favorite game of all-time, so I'm super excited to help bring this project into reality!Twitter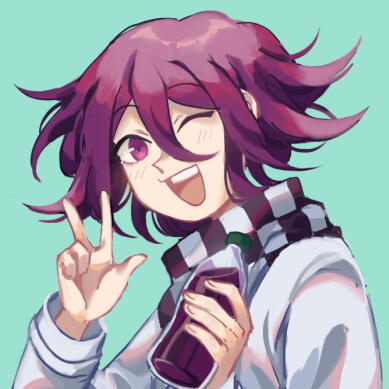 Karu
Art Mod / Graphics Assistant
Hihi!!! I'm Karu, and I'll be this zine's art mod and graphics assistant!! I'm still new to the modding business, but I have been in many other zines as a contributor, as well as convention selling.V3 is a game held super close to my heart—I'm really passionate about this zine's theme! I'll try my hardest to give you guys the best we can offer!Twitter - Instagram - Tumblr
Sixth
Layout Mod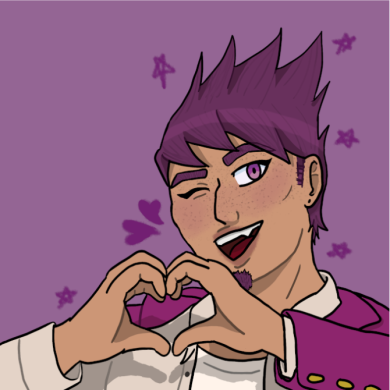 Craig
Beta / Production / Finance Mod
Hi everyone! I'm Craig, I'm 21, and I'm the beta/finance mod for this zine. I've also been the head/writing/shipping/finance mod for With Passion & Purpose: An Oumota Zine, as well as the writing mod for I Am The Mastermind! and writing/finance mod for Colors of Despair.I first got into Danganronpa in high school, but only saw the THH anime at the time, and fell out of it for a while. Years later I played SDR2 and NDRV3 myself, and I've been hooked ever since! V3 is my favorite game—mostly because it contains my favorite cast by far. Postgame is one of my favorite concepts to explore, for V3 in particular, since the game is very ambiguous about the truth of the ending. It's fun to come up with tons of different postgame scenarios!Twitter - Instagram - Tumblr - AO3
Cara
Shipping Mod
Hello, I'm Cara, the Shipping Mod for My Fiction, Our Reality! I've worked on over 40 zines across various fandoms, as well as beta work for various bangs and exchanges.This project is my first Danganronpa zine. I've never technically played, but I've watched all the play-throughs after a friend insisted that I get into it!Twitter - Instagram - Carrd
Writers
Page Artists
Merch Artists